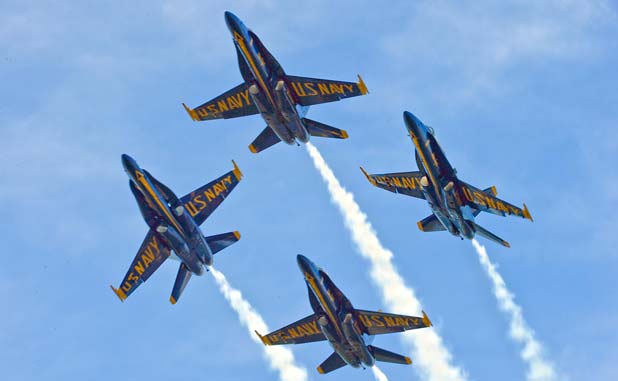 The Great Georgia Air Show has been a favorite event for aviation enthusiasts and families around metro Atlanta for years.
Fans have packed the area at Atlanta Regional Airport – Falcon Field in Peachtree City to witness thrilling aerobatics and dazzling displays of power, both in the air and on the ground.
This year, festival organizers have upped the ante. The air show, always a not for profit event, fully staffed by volunteers and raising money for over 40 local schools, civic groups and charitable organizations, is thrilled to officially announce that America's premier jet demonstration team, the Blue Angels, are coming to town to headline this year's show.
The Blue Angels showcase the pride and professionalism of the United States Navy and Marine Corps by inspiring a culture of excellence and service to country through flight demonstrations and community outreach. The team has been performing air shows for 69 years and consistently wows audiences with performances from pilots who are the best of the best. They soar to heights as high as 15,000 feet and can cruise as low as 50 feet in a show and can blow by crowds at speeds of 700 miles per hour and go as slow as 120 miles per hour.
In addition to the Blue Angels, there will be numerous other acts in the air and on the ground, as well as many impressive military assets on display. Families can also enjoy Halloween-themed events, while feasting on delicious snacks and refreshments throughout the weekend.
Because of the Blue Angels, who have not flown in metro Atlanta since 2010, the show is expected to bring record crowds to the area and be a complete sell-out. There are several ticket packages available, including some special seating areas for guests looking for better views or VIP treatment. Guests interested in witnessing what is expected to be the most awesome presentation in show history should act quickly and purchase tickets well in advance.
The Great Georgia Air Show will take place in Peachtree City at Atlanta Regional Airport, Saturday and Sunday, October 31 and November 1. For more information, please visit our website www.thegreatgeorgiaairshow.com