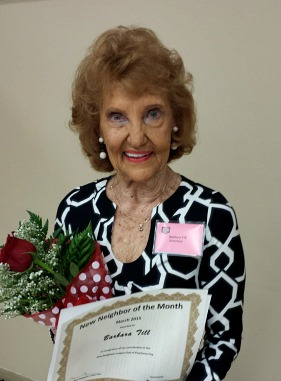 The New Neighbors League Club (NNLC) recently announced the New Neighbor of the Month for March — Barbara Till.
Having been born and raised in Atlanta, Till is a true Georgian. She and her husband raised their three children in Fayetteville while she worked for the U.S. Department of the Army. When her husband retired from Allstate, the couple, their daughter, and Till's father moved to Florida. They eventually returned to Georgia and relocated to Peachtree City.
Till joined New Neighbors League in August of 2013 and has been very active from the beginning. She has served as Prospective Membership Assistant, Membership Assistant, Membership Chair, and is currently the Club Secretary. Barbara participates in Let's Eat Healthy, Pokeno, Tours, Let's Go Shopping, Luncheons, Adventures in Dining, and Helping Hands.
NNLC's purpose is to bring newcomers in the area together so they can meet and become friends while adjusting to new surroundings. It is a not-for-profit social organization that offers a wide variety of special interest groups.
Those living in the Fayette/Coweta County area who want more information about NNLC, contact Carol Jensen-Linton at (770) 486-9116 or visit the website, www.newneighborsptc.com.