Sybil Rosen appears as poet Emily Dickinson in 'The Belle of Amherst' at Fayette County Library
September 5, 2019 @ 7:00 pm

-

8:00 pm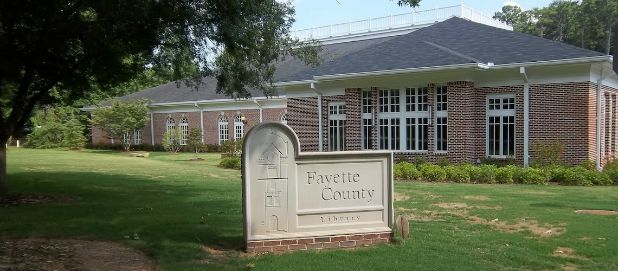 Fayette County Public Library invites the public to experience an evening of live theatre Thursday, September 5, with a performance of "The Belle of Amherst," a one-woman show inspired by the life and writings of Emily Dickinson.
The event begins at 7 p.m. and admission is free. Seating is available on a first-come, first-served basis. Light refreshments will be available, while supplies last, compliments of the Friends of the Fayette County Public Library.
"The Belle of Amherst" by William Luce is a funny, wise, and poignant rendering of America's most loved — and perhaps most enigmatic — poet, Emily Dickinson. The one-woman play, adapted and performed by Sybil Rosen, is an intimate glimpse into the poet's unusual life — her legendary seclusion, the close circle of family, and the people who loved her.
Rosen has long admired Dickinson's poetry but when she encountered the character of the poet in the play, she fell in love. "The language," she says, "most of it taken from her letters and journals, is so beautiful and witty."
The play was first produced on Broadway in 1976 and starred Julie Harris, for whom it was written. In approaching the piece for library performances, Rosen knew she would have to cut it. "It probably ran three hours on Broadway, and I felt that would be too long for our intended audience." So she cobbled together an hour-long version. "I wanted to include the parts that would make Emily most accessible. She was considered a small-town eccentric, so I thought, hey, we could all relate to that."
"What I love most about the play is that it's a description of a writing life, a deliberate narrowing of daily life so that as an artist she could go most deeply into her art," says Rosen. Laughing, she adds, "And the best thing about performing it is that, for about an hour, I get to be a genius."
Sybil Rosen is an award-winning playwright, children's novelist, and short story writer. Among her more recent projects was co-writing the script for the 2018 independent film "Blaze," based on the life of country music legend Blaze Foley, with whom she once lived in a treehouse in Roopville, Georgia. The film, directed by actor and filmmaker Ethan Hawke, debuted to critical acclaim at the Sundance Film Festival, and makes its Carroll County premiere on August 30. Rosen currently lives in Carroll County, where she is a lifetime member of the Friends of the Whitesburg Public Library.
"Fayette on the Page: One Book, One Community," launched in 2008, is an annual countywide reading and discussion initiative for adults. This year's program kicked off in early August and has already featured a hands-on poetry-making party, poetry appreciation and poetry writing workshops, a group book discussion of "Selected Poems" by Emily Dickinson, and a Dickinson celebration hosted by the Poet Tree, the library's monthly poetry group. All "Fayette on the Page" programming is open to the public and free of charge, thanks to the generous support of the Friends of the Fayette County Public Library.
The Fayette County Public Library is located behind the Fayette County administration complex in downtown Fayetteville, at the southwest corner of Highways 85 and 54.  For more information, contact the library at 770-461-8841.
Related Events