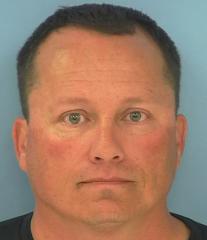 David Munoz. Photo/Fayette County Jail.
A McIntosh High School baseball coach has been arrested on a charge of sexual battery.
David Munoz, 43, of Peachtree City, was charged with one count of sexual battery, according to Peachtree City Police Department spokesman Stan Pye.
Pye said that the department on April 24, "received a complaint of a coach, at McIntosh High School, possibly making inappropriate physical contact with student athletes."
Pye said detectives conducted initial interviews with a limited number of athletes, and as a result obtained an arrest warrant.
Munoz was arrested the same date and charged with one count of sexual battery, said Pye.
The investigation is ongoing at this time, and further information will be made available when possible, Pye said.
An April 25 letter to parents from Principal Lisa Fine said:
"I want to make you aware of a situation involving one of our teachers.
"Health and P.E. teacher and boy's baseball coach, David Munoz, was arrested after school yesterday (April 24) for inappropriate behavior with students. The allegations against Mr. Munoz were reported directly to the Peachtree City Police Department resulting in his arrest. The school had no prior knowledge of these allegations. We are cooperating with Peachtree City police in their investigation.
"The district office is aware of this situation, and Mr. Munoz will not be returning to the classroom while these charges remain pending.
"The safety and well-being of our students and staff is a top priority. Please encourage your students to notify school administrators of any inappropriate activity or threats about which they have witnessed or been told. We take these reports seriously, and conduct investigations into them as soon as they are brought to our attention.
"If more information becomes available, I will share it with you," Fine said.
School system spokesperson Melinda Berry-Dreisbach said Munoz was hired in 2007 at J.C. Booth Middle School in Peachtree City as a health and PE teacher. Munoz transferred to McIntosh in 2014, also as a health and PE teacher.