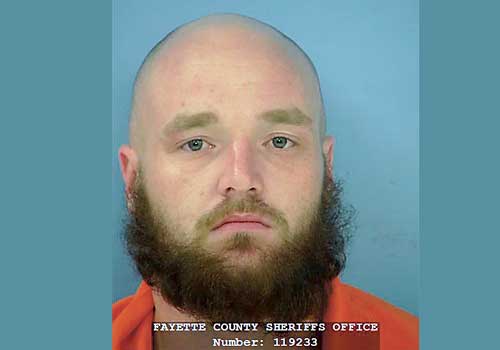 A Griffin man faces multiple charges related to a May 23 incident in north Fayette County in which homeowners alerted deputies to a man entering several properties and rummaging through vehicles.
Dustin M. Brand, 27, (photo above) was charged with four counts of entering auto, two counts of criminal trespass and one count each of burglary, drug possession and misdemeanor marijuana, according to Fayette County Jail records.
Sheriff Barry Babb said deputies received calls from homeowners along Ga. Highway 92 North during the morning hours of May 23 related to a white male wearing black jeans and no shirt walking around yards and entering a garage.
Brand also entered a detached shop where the homeowner found wet clothing, said Babb.
Babb said an unlocked vehicle in the garage was also reportedly entered and rummaged, followed by Brand being confronted and told to leave by the homeowner, who said deputies would be called.
Another call to 911 indicated that a vehicle had been abandoned in a front yard, Babb said, adding that it was believed Brand had abandoned his vehicle.
Deputies arrived in the area and spoke with homeowners. Meantime, Brand was spotted and detained by deputies walking southbound along Hwy. 92 North.
Deputies found Brand carrying marijuana, meth, the keys from one of the vehicles and a garage door opener from one of the residences on his person, Babb said.
Brand was medically cleared at the scene and transported to the Fayette County Jail.