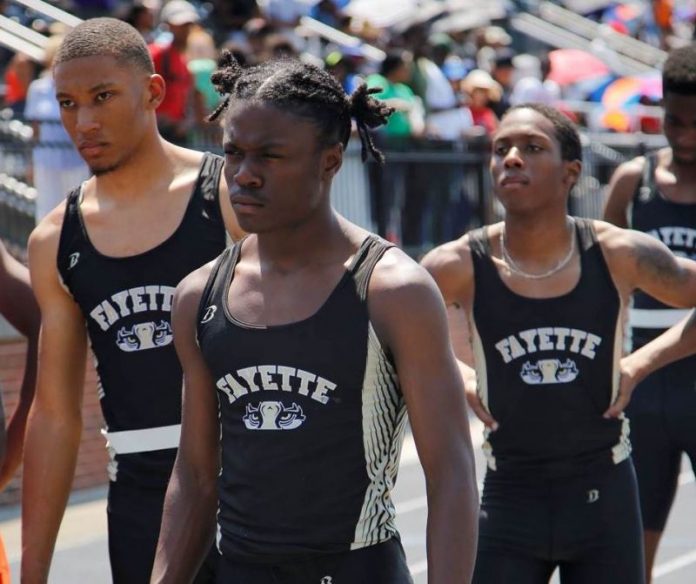 Fayette County High School's 4x400m relay team that won the AAAAA state championship was named to the Powerade All-Metro Track & Field Team by Atlanta Track Club.
The four competing athletes and two alternates will be honored at a banquet next month. The team is comprised of Josh Dupree, Seth Holloway, Jaylan Coleman, Trey Johnson, Cameron Johnson and Zachary Filmore.
"The metro Atlanta area is home to some of the best scholastic track & field athletes in the United States," said Rich Kenah, Atlanta Track Club's executive director. "We are proud to recognize their accomplishments and celebrate their successful season."
The 49 All-Metro athletes, who represent 11 counties and 27 high schools, were selected based on criteria including season bests, their performances at major meets throughout the season, and their finishes at the GHSA State Championships. The community can vote online through May 22 for the most outstanding male and female track athletes and most outstanding male and female field athletes.
Each of the Most Outstanding Athlete winners will receive a $1,500 scholarship from Atlanta Track Club and will be announced at the Powerade All-Metro Track & Field Banquet June 6 at the Stave Room in Midtown Atlanta. NBC Olympics broadcaster Lewis Johnson will host the banquet that will recognize all of the honorees as well as state champion coaches. Two high school seniors, one male and one female, will also be awarded $2,500 scholarships for their contributions to the sports of track & field and cross country.