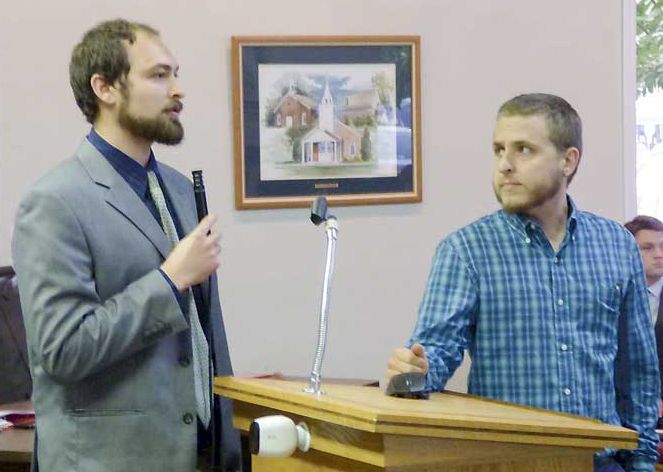 The Tyrone Town Council on Sept. 21 got a look at possible enhancements to the downtown area that stemmed from citizen requests during the recent comprehensive plan update.
Planning and Zoning Director Phillip Trocquet said the town applied to the Georgia Downtown Renaissance Fellowship for assistance after citizen input was received and the update to the town's Comprehensive Plan was completed earlier in the year.
---
Above, University of Georgia representatives Dan Shinkle (L) and Landon Woodward reviewed aspects of potential development and enhanced walkability in downtown Tyrone at the Sept. 21 meeting of the Tyrone Town Council. Photo/Ben Nelms.
---
That assistance came in the form of a document entitled "Town of Tyrone — Design Considerations," through the Carl Vinson Institute at the University of Georgia and the UGA College of Environment and Design.
Presenting the concepts and potential future plans for the downtown area were UGA representatives Dan Shinkle and Landon Woodward.
The scope of the presentation included streetscape enhancements and overall improved connectivity, improvements to the corner lot at the former Tyrone Elementary School, renovations or infill development proposals for two lots adjacent to Town Hall, infill development proposals for the corner of Senoia Road and Commerce Drive and improvement to the former county fire station lot.
Trocquet referred to the considerations as a "good starting point to bring options to the council to fulfill the citizens' input on the comprehensive plan."
Troquet noted the desire of citizens to have increased walkability and additional offerings in the downtown area.
Shinkle after the presentation told council members that "tonight was the first step," adding that his organization would be available if needed in the future.
Councilman Ryan Housley and others on the board said it was good to see the opportunities available to the town and its future.